Welcome to our Genie Nights slot review! Red Tiger's Genie Nights is one of those remake efforts that makes you question why the studio bothered.
Honolulu Nights (probably canceled) was the prototype slot game, and it was a peculiar mix of pixelated flesh, poor potential, and low excitement, all rolled into one of the slowest moving games we'd seen. 
No amount of jiggling in a bikini could salvage it. Honolulu Nights has been revived, or at least the math and features have been poured into an Arabian Nights-themed game named Genie Nights, for whatever reason.
Don't worry if you think Red Tiger has taken away the flesh; three 'babes' have returned, and everything that made Honolulu Nights what it was.
Genie Nights Slot Review: The Newest Game from Red Tiger
Genie Nights, like its previous, is covered with sand, except this time it comes from the desert rather than the Hawaiian beaches. The background is made out of hot sand, which is traversed by a line of camel riders behind a 3 x 3 game grid.
The game's graphic quality isn't as excellent as it typically is from Red Tiger, and it has an unfinished feel to it. The visuals have an off-kilter quality to them, with an overall 'well it's good enough' vibe, as if perfection was not a focus for the developer. Another word to describe the first impression is rushed.
1. Paytable about The Game
This online slot is a statistically volatile game (rated 4/5), with a 95.76% return to player value. It's very simple, but it has a surprising number of features.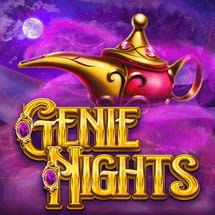 Players have 5 fixed paylines to land three-of-a-kind combos in this classic slot game, while features include an increasing, progressive element to them. Before you start looking for them, keep in mind that the stakes range from 10p to £/€100 every spin, and you can play on any device.
Honolulu Nights' masks and beach accessories have been replaced with a slew of low-paying 10-A card rank symbols and four high-paying treasure symbols.
Winning combos pay off between 0.2 and 1.4 times the wager for lows and 4 to 20 times the bet for three premiums. Genie Nights doesn't have a wild symbol, but it does have a lot of interlocking characteristics.
2. Slot Features
The same set of features has been brought over by Red Tiger, although some of the names have shifted. Respins, a Magic Lamp Bonus, Wish spins, Great Wish spins, Mega Wish spins, and a Nudge mechanic can all be found here.
Respins
When three Respins symbols appear on a payline, they pay 0.2x the bet and activate a respin. Up to four subsequent Respins can be triggered in a line, each with a higher probability of landing extra Respins or the Wish bonus. Only the Respin, Wish, or Great Wish symbols appear on the fourth Respin.
Magic Lamp Bonus
The Magic Lamp Bonus is triggered only in the main game if a 3 x 3-sized lamp symbol appears. Here, players can win a 5x-50x stake prize or one of the three Wish Bonuses.
Wish
Awarded when three Wish symbols appear in a row or when the Magic Lamp Bonus is activated. Eight free spins are awarded and Wish or Great Wish symbols may appear on the last spin to retrigger an additional eight free spins.
Great Wish
Available through the Magic Lamp Bonus or by landing three Great Wish symbols in a row. 8 free spins are provided once more, with a higher chance of winning. Great Wish icons may appear on the final spin, retriggering 8 additional free spins.
Mega Wish
This is a random upgrade on the last spin of a Wish bonus that players can win via the Magic Lamp Bonus or as a random upgrade on the last spin of a Wish bonus. All symbols are substituted by 13-sized Genie symbols worth 2x, 4x, or 6x the stake throughout this round.
This round will continue as long as each spin results in a win. The game returns to its regular mode after a non-winning spin. So, if you got Mega Wish during the Wish or Great Wish bonus, you'll get it again.
Nudge
If the final spin of a Wish bonus does not result in a win, the reels may be nudged to do so.
Conclusion
To conclude Genie Nights slot review from our online gambling site, winning in Genie Nights is rarely as difficult as it may be. This game, like the other beach game, gets caught in looping, going from one bonus to the next, back to the previous bonus, forward a step, back a step, read War and Peace, come back, and the bonus rounds keep rolling over. 
So much so that you wish they would simply quit so you could get back to living your life. It wouldn't be so bad if the time spent stuck in these feature loops produced a similar amount of loot, but Genie Nights' payouts aren't great, so the effort/reward ratio can feel off.
So, you need some strategies to play slots of this kind, especially if you're a beginner. Besides good tips and strategies, you also need to choose if you want to play online or on land-based slot machines. Not every online casino site gives the same benefit and return.
Read More: 5 Casino Games That Will Help You Improve Your Poker Game