Are you looking for the Golden Joker slot review? If you're missing the classics and want to try them out in a modern setting, this game might be the game for you.
This Amatic game has a classic fruit theme, average graphics at best, and basic features, but if you're looking for a blast from the past to get past a bout of nostalgia, this is the game for you.
Best of Golden Joker Slot Review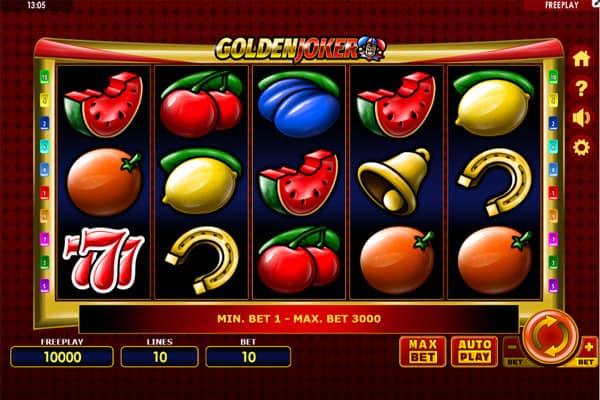 In Golden Joker, there are 10 lines on 5×3 reels. It's a game with up to 5,000x payouts that delivers its features via scatters or wild jokers, with some free spins thrown in for good measure.
1. Betting and Winnings
You must wager on the game's ten lines and keep them all active at the same time. This game has a minimum bet of 10 coins and allows you to increase it to a much higher value of up to 3,000 coins. Although the denominations of those coins may differ, you're looking at a range of 1 to 300 coins per line.
Golden Joker has good payouts, which it should because it lacks complex features. It will pay out a jackpot of up to 5,000x on each line with the correct winning combination. Regular or scatter symbols can also result in decent payouts.
2. Slot Features
The symbol that actually shows you this character will be your one major bonus symbol in Golden Joker. The Joker is both the wild and the scatter, sometimes even at the same time.
If the Joker symbol is properly positioned and the other matching symbols for the combo are available, it will appear as a wild and participate in the formation of new combinations.
There will be rewards for using Joker icons, but they will only be given in exchange for seeing at least three scattered symbols; no regular combinations are required. This is how the game's second best payout can be awarded.
When used as a scatter, the same Joker will award 10 free spins. You'll also get a random expanding symbol chosen from among all the regulars. There's a chance you'll be able to retrigger the free spins if you get the required three or more scatters to appear again.
Although the expanding symbol from the free spins is a nice touch and virtually unheard of in such classic-themed slots, you're not getting anything unique here.
3. Design and Theme
Golden Joker's theme isn't so much about the joker as it is about the classics, the symbols we've seen a million times before in both land-based and slot online machines. 
Along with images of red 7s, lucky horseshoes, golden bells, grapes, plums, watermelons, oranges, lemons, and cherries, there is a low-quality Joker symbol. It's a standard set of symbols with a shoddy design, so it's not particularly appealing.
Unless they wanted to capture the look of a 90s online classic, in which case they've nailed it, we'd call this part of the game a clear miss.
Final Conclusion
In the end of our Golden Joker slot review, that is a basic game by today's standards; it lacks modern graphics and a compelling story, so unless you're looking for that, we recommend moving on to another game.
Read More: Orbs of Atlantis Slot Review (RTP 96.60%, Habanero)