Do you need this Night of The Living Tales review before playing that game? Evoplay has just published this game in time for the impending Halloween holiday.
It'll take inspiration from Snow White's story, but with considerably darker aesthetics than you'd expect from a fairy tale, and your companions will be stone statues of the protagonist and the witch.
The game has the potential to pay effectively, is riskier to play, and performs well enough overall that it should be explored by players who can tolerate its volatility.
Summary of Night of The Living Tales Review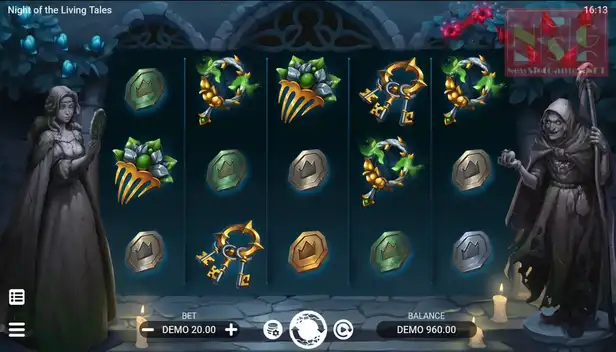 Night of the Living Tales has 5×3 reels and 20 paylines on which you can wager and win. This game has a potential reward of 3,373x the stake, which is good, but it could've been even better given the game's high volatility.
The game fares well enough overall, with an RTP of 96.20%. Its major features are wilds, Blue or Red Flowers, and special wilds, which can lead to free spins and extraordinary wilds.
1. Betting Range
When choosing a stake, the game will only allow you to go as low as $0.10. On the other hand, a total bet of up to $200 might be selected as well.
For this game, we've witnessed payouts of up to 3,373x the bet, which is fine for most slots but perhaps not quite enough for one with significant volatility.
You'll have the best chance of coming close when you play the Witch free spins, which let you to earn multipliers that can be applied to all of the feature's wins. The RTP is 96.20%, which is slightly higher than usual for most players.
2. Slot Features
Even if there are several separate events that will trigger in different ways, there is only one feature sign present. The wild Spell Book is the one you'll see and employ on the reels, where it'll act as a substitute for all other symbols in the event that a new combo forms.
Winning or losing rounds will get you access to the free spins. To achieve such a feature, you must play 5-7 rounds of one sort or another in a row. In other words, you're rewarded for winning or losing streaks.
Blue Flowers
The Blue Flowers, which appear next to Snow White's statue with each successive winning spin, are the first to appear. Remember that you must have 5 consecutive winning spins to activate the free spins, else your progress will be reset.
If you complete the collection, the statue will come to life, and you will be awarded 7 Snow White free spins. If you get 5 consecutive winning spins at this point, you will receive 7 Light Free Spins.
A distinctive wild symbol appears on reels 2 and 4 in this version of the feature. 1 extra free spin is awarded for each new Light Wild that emerges.
Red Flowers
The Red Flowers, which emerge at the top of the Witch statue, are the second addition. You must activate the five flowers once more, but this time through five straight losing spins. After that, the Witch will come to life and award you with 5 of her free spins.
Witch Free Spins
The Witch Free Spins will also let you progress to the next level, but you'll need to go 7 rounds without winning in a row to do so. As a result, you'll receive 5 Dark Free Spins.
Special Dark Wilds can appear on reels 1, 3 and 5 during Dark Free Spins. They turn sticky with each appearance and then add 1x to the feature multiplier that will apply to all wins at the end of the free spins.
3. Theme and Design
Though it serves as inspiration, the story of Snow White looks to be nothing more than an excuse for the developer, and it isn't thoroughly explored.
Snow White and the Witch, frozen in stone to the left and right of the reels, are the only two dwarves visible. The reels appear to be in a garden, with flowers on both sides and a stone path beneath the character's feet.
It's not a particularly long list of symbols, and they're also not that intriguing. Your wild card is a Spell Book, which contains high-value symbols such as a necklace, comb, and keys.
Four coins in gold, silver, copper, and green serve as low symbols. For several free spins variations, special wild Potion symbols have been introduced.
Final Words
This slot gacor is stunning, with a darker style than you might expect from a Snow White-themed game. The potential and features appeal to me, particularly the way you can earn free spins by losing or winning streaks. 
We are not a fan of the fact that you have to keep repeating those streaks in order to acquire access to higher free spins.
Nonetheless, because of the heightened volatility, it may be a fascinating game to try out, but it is not for everyone. Finally, it is our Night of The Living Tales review that you can figure out. 
Read More: Win Win Slot Review (ELK Studios) RTP 96.1%