Wild Chase: Tokyo Go Slot Review. The follow-up to Quickspin's original Wild Chase slot will provide a trip down memory lane for those who were alive at the time. Three years later, the recognizable trio came together once more for another spectacular heist.
Although this would be their final heist, the challenge presented by Wild Chase: Tokyo Go Slot proved to be too alluring to pass up. And, well, it's also possible that they are running out of money to support the lavish lifestyle of a prosperous crook.
For some high-speed action in a different location, the handsome three have left the Riviera behind and headed to Japan this time. The Quickspin-powered game has several differences from the original, yet it still has elements that players will recognize.
It is played with 5 reels and a default format of 3-3-4-4-5 rows along with 76 paylines that can extend to a 5×5 grid with 259 ways to win with the help of consecutive wins. It is noticeably more volatile than its predecessor. You can start spinning on any device from as low as 0.20 to €/£100 per spin if you're up for some frantic slot play.
This gorgeous slot transports you to the center of Tokyo's metropolitan area for some magnificent scenery. You're in for a tremendous treat if you enjoy watching vehicle chase flicks. The icons on the reels are dripping with luxury and excitement, set against a neon-lit urban environment as you race along the freeway in your Lamborghini getaway car.
All symbol values in Quickspin's paytable correlate to your current bet size, which means that whenever you change it, the paytable will instantly update. I appreciate that.
In any case, you'll see a variety of opulent symbols on the reels, including champagne bottles, diamond rings, high-end timepieces, gold bars, and diamonds valued between 0.30 and 1.25 times your wager. The four characters, including the trio of criminals and the motorcycle-riding policewoman, are more satisfying.
The attractive man pays out the most, 2.5 times your entire bet. The wild, which can replace any other symbol in the game, is the Wild Chase Tokyo Go logo.
Wild Chase: Tokyo Go Slot: Features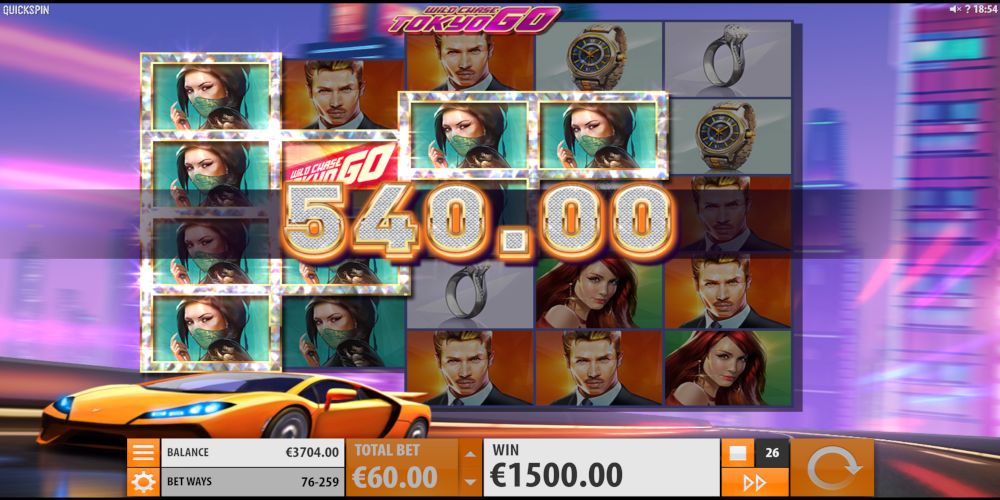 Wild Chase: Tokyo Go Slot does not include a free spins feature, similar to the original, so get ready for nonstop action. Of course, there are still advantages to be had in this situation. 
No matter which symbols are part of a winning combination, the Moving Reel Respin feature kicks in and triggers a respin. This function is given up to 43.11% of the RTP, so anticipate seeing it used frequently. Check out here if you want to know more about script-hacked online slots.
The reels are now expanding and the win ways are growing with each respin. The symbols shift one position to the left as you win, with the leftmost ones disappearing from view.
As another respin is played, the other symbols stay visible. Up until there are no more winning combinations, this goes on. When fully enlarged, the reel set assumes a 5×5 configuration with 259 chances to win.
You have 90 chances to win on the first respin.
You have 154 chances to win on the second respin.
You have 164 chances to win on the third respin.
You have 259 possibilities to win after the fourth respin.
There is yet more to it. If your fourth respin results in a winning combination, the Super Respin feature begins. All winning symbols lock in place while the game respins until no new winning symbols are introduced to the reels.
The game is played on the fully enlarged 5×5, 259 ways to win reel set. The best-case scenario might result in gains of up to 2,757 times your initial investment.
Related Article: Fantasini Master of Mystery Slot Review
Wild Chase: Tokyo Go Slot: Verdict
The focus of the medium-to-high variance game Wild Chase: Tokyo Go Slot is racking up consecutive victories. You'll need to find all 259 of the winning ways to use it to its full capacity. Having said that, it's crucial to realize that the 2,757x maximum win was the best result in one billion spins during the game's testing phase.
Even winning 100 times or more can be difficult because, according to statistics, it only occurs about 1 every 1467 spins. In other words, you might not find the "heist" you were seeking in Wild Chase Tokyo Go. Undoubtedly, this is a gorgeous slot with amazing animations and a fantastic soundtrack, but the game engine and mathematical design in this instance unfortunately do not do the visual department justice, which is not unusual in Quickspin's situation.
It's likely to be entertaining for beginners and casual players, but for die-hard gamblers, it might seem more like a game of catch at the nursing home than a fast-paced race. Lastly, please visit my other blog at garuda-gaming.yolasite.com to read more tips & tricks about online slot games.