Of Sabers and Monsters slot demo from developer Yggdrasil Gaming that plays out on 6 reels, 4 rows and offers up to 4,096 ways to win. In this game, you face a frightening creature in the company of your brave companions by betting between 0.2 and 50 euros with the prospect of winning the jackpot 18,350 times your bet. The volatility of this video game is high and it offers a redistribution rate of 96.0%. When it comes to features, you'll be spoiled for choice between Wild, Scatter, Feather symbols, Hero Battle features, Focus Points, Ardent Respins, Skirmish, Free Spins Gamble, Tempest Free Spins, Free Spins and Buy of bonuses.
Looks
Engage in fierce combat against a fearsome monster alongside valiant heroes
The Of Sabers and Monsters slot game takes place in the middle of the countryside, on a wide and yellow surface. Considering the agricultural design of the region, it is easy to assume that the crops visible on the screen are wheat. In the background, you'll see cartoon-looking clouds moving from left to right, a black crow, and an impressive sand-colored building in the upper right corner. 
When you trigger the free spins, the game changes its appearance, the screen becoming darker and terrifying, in short, a setting conducive to the advent of monsters. The reels have a wooden frame and on the right you will notice the faces of four characters appearing as the heroes of this video game. Each hero has a focus meter ranging from 0 to 100 which activates Ardent Respins each time it reaches 100. All meters start at 0, except for a random hero who will start with 50 Focus Points.
Symbol
Wins are obtained by landing 3 symbols of the same type on adjacent reels, starting from the first reel on the left. Of Sabers and Monsters slot demo is compatible with all mobile devices, tablets and computers. The low value symbols consist of clubs, diamonds, hearts and spades which award 1x your bet when you land a combination of 5. The highest paying symbols are represented by the 4 heroes. So you will have a woman holding a stringed instrument, a man smoking a pipe, another woman holding a sword, and a man with a mustache sporting a hat.
Free Spins
These heroes award wins worth 2-3 times your bet for a win containing 5 symbols. No Wild symbol can land directly on the reels, but the 4 heroes can turn into Wild when they win a battle against a monster also present in the game. The Scatter symbol is represented by a deer with the mention 'Free Spins' . A feather landing on the 6th reel awards random prizes both in the base game and in the free spins. You can play this Betwin4d Slot machine by betting between 0.2 and 50 euros and aspire to a maximum win of 18,350 times your bet.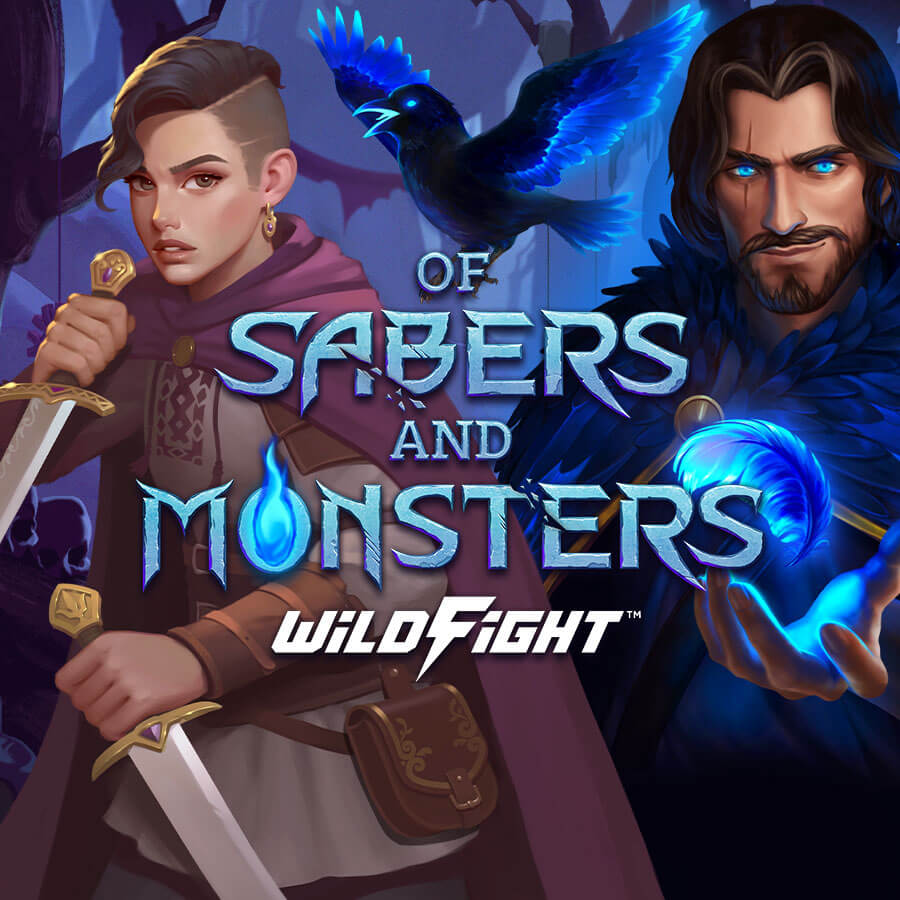 Incredible features and up to 18,350x your starting bet await
The main features of Of Sabers and Monsters slot demo machine consist of Wild symbol, Scatter symbol, Feather symbol, Hero Battle features, Focus Points, Ardent Respins, Skirmish, Free Spins Gamble, Tempest Free Spins, Spins freebies and buying bonuses.
The Scatter: this symbol looks like a deer with 'Free Spins' written on it. When you land 3 anywhere on the reels, you get free spins. 3, 4, 5 and 6 will award you 8, 12, 16 and 20 spins respectively. Before they start, you can choose to bet them in a game option called 'all or nothing', with the possibility of winning more spins. Scatter symbols are only available during the base game.
The Wild: The Wild symbol has the shape of two swords crossed one above the other. It does not land directly, but appears whenever one of the rewarding symbols wins a battle against the monster.
Hero Battle: Each time one of the 4 heroes lands on reels 2, 3, 4 or 5, they fight the monster and become a Wild symbol if they win. This Wild has the ability to substitute for all regular symbols. If he loses, he will retain his original appearance.
The Feather symbol: this symbol can land on the 6th reel to give you a random bonus. During the base game, the feather can award you a cash prize of 4 to 200 times your stake, 8 to 20 free spins, or access to the Tempest Free Spins feature. On free spins, it awards a cash prize, 2-4 extra spins, a random Wild reel or an extra Wild. When you land it during the Tempest Free Spins feature, you get a cash prize or 2-4 extra spins.
Focus Points: the 4 heroes each have a focus meter that ranges from 0 to 100. For each win featuring a high-value symbol, this meter adds 1 to 6 points for a victory with between 3 and 6 symbols. All heroes start the game with 0 points, except for one, who starts with 50 points. Every time a hero reaches 100 points, the Ardent Respins feature is activated.
Ardent Respins: The hero through which this function is activated is in ardent mode, which means that every time he will win the battle against the monster. Each hero that wins a battle will be locked as a sticky Wild symbol on a random reel while the other reels remain in motion. Respins continue as long as at least one battle is won or all positions are covered by sticky Wilds.
Skirmish: If all positions on reels 2, 3, 4 or 5 are filled with high-value symbols, a more intense battle is triggered during the Skirmish feature. All of the previously mentioned high value symbols on the reels then fight the monster and turn into Wilds if they win the fight.
Free Spins Gamble: At the start of the free spins, you can bet your spins in an all-or-nothing mode game with the prospect of winning more. However, you cannot bet if you already have a maximum of 20 spins. You can upgrade spins by getting 2 more for each bet, up to a maximum of 20 or until you lose the bet, which means losing all of your spins.
Free spins: this function is triggered when at least 3 Scatters land, or when the feather allows you to access them. Before the start of the free spins, you will be able to get one of the following bonuses: a hero in fiery mode, a Wild placed randomly on the reels from the start, a sticky Wild on a random reel, extra feathers added to the 6th reel . During free spins, each hero that wins the battle becomes a sticky Wild that will hold its position for the rest of the spins. The feature ends when you run out of turns.
Tempest Free Spins: This feature can be triggered by the Feather symbol or through the bonus purchase feature. You are then rewarded with 8 turns with all the heroes in fiery mode, which will win all their battles during the entire session. If both respins and Tempest Free Spins are triggered in the same spin, the respins are played first. Here too, the feature stops once the spins run out.
Bonus purchase: this feature allows you to acquire regular free spins for 80 times your stake, or Tempest Free Spins for 500 times the bet.